Healing in Arts invites visitors into the healing journey with our interactive art installations. Whether people are experiencing wounds from physical, mental, or emotional issues, art has the unique potential to reach into lives without words; it touches deep places within the human spirit and invites a response. Many end up taking small steps toward healing. Dozens of stories have been captured within our healing spaces as people identify their struggles and release their hurts. Our mission is to focus on the viewers and their needs through art—keeping hope alive.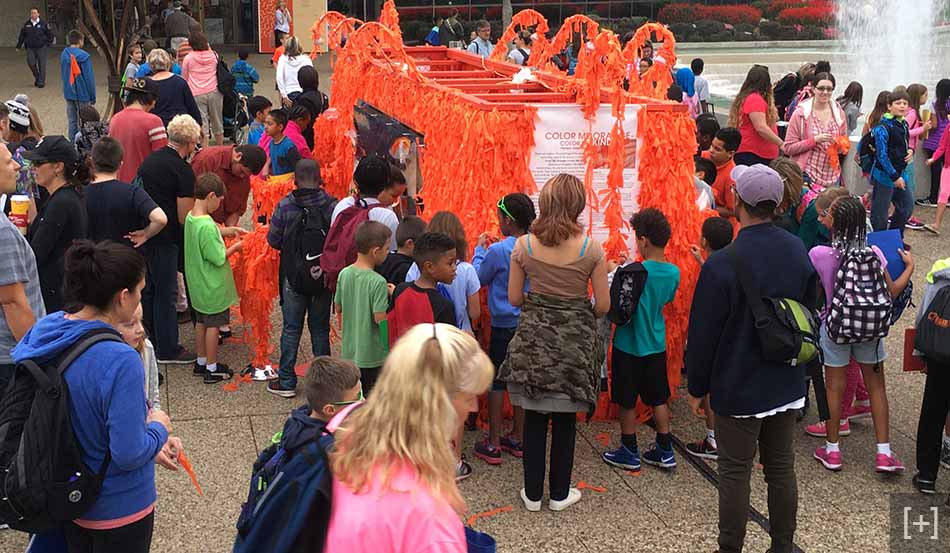 Who are we?
Artist and facilitator Pamela Alderman and her art team create a new kind of artist/citizen work that invites audience collaboration. The work lets others speak and respond. Over the last ten years, countless visitors have experienced transformation and hope with our donor supported work called Healing in Arts.
How does Healing in Arts work?
Well-known artist Makoto Fujimura explains how Healing in Arts facilitates healing: "Art that focuses on the audience rather than the artist's need for self-expression is unique. A paradigm shift." As individuals begin to interact with the work, they often end up identifying their pain, and, in some cases, they open up and begin talking about deep wounds for the first time. By serving others and encouraging soul care, Healing in Arts helps unlock people and moves them towards human flourishing or personal wellbeing.
How does Healing in Arts make a difference?
After viewing The Scarlet Cord, an anti-sex trafficking installation, a middle-aged woman leaned into Pamela Alderman, and released a heavy sigh. Pamela later explained: "I felt it to the core. But the woman walked away before I could say anything. Although not a single word was spoken, something transpired. Whether large or small, this woman, like so many others, experienced healing—at an art installation."
While exhibiting Color Me Orange—Color Me Kind, parents said that they had heard about our anti-bullying exhibit, so they made a special effort to come see the work. In one such case, their son had been a victim of middle school bullying several years ago. These parents went on to explain their son's pain when some students threw food at him while the teachers laughed. One day when their son was missing, the parents went to school to search for him. Tragically, they discovered their son's body dangling from a tree near the school. Suicide had claimed his life. These grieving parents returned to Color Me Orange—Color Me Kind a second time to thank us for providing a space to talk about their story.
Why give tax deductible funds to Healing in Arts?
Many of you will want to help support Healing in Arts. By donating funds, you collaborate with us and enable others to experience personal development and growth. Donors are an essential part of the work. As a supporter, you become an important member of our team and help bring meaningful community transformation through art making.
Help increase awareness of relevant topics such as autism, sex trafficking, or anti-bullying through Healing in Arts presentations and popup galleries.
Help support exhibit expansion. Currently, The Scarlet Cord: Healing for Sex Trafficked Children is under construction because demand for the artwork continues.
Help grow our interactive art installations that reach thousands of people with the message of hope and healing. Each year, we expand the scope of our new installations, and continue our volunteer community service under Healing in Arts.